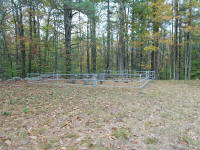 Thompson Cemetery, Lebanon, Maine
Please feel free to use any of the photos shown for your personal records. However, you may not use them for publishing or profit in any way without my written permission. Thank you.

Click on any photo below for a full size version. All transcriptions are exactly as they appear on the stone. Unreadable sections are indicated by [ ] with the closest approximation of what I believe it had said. If you get a "hit" please let me know so I will know this is a project worth continuing. dnwalsh@aol.com

This cemetery is located on .
OLIVER QUINT
DIED
June 29, 1863
AE 60 yrs 3 mos 29 ds


MARY T.
Wife of
Oliver Quint
DIED
Oct. 30, 1883,
AE 75 yrs. 5 mos.


ALLAN GREENOUGH
DIED
Feb. 19, 1889
AE 62 yrs. 2 mos.
19 ds.


ELIZA A.
wife of
Allan Greenough
DIED
Apr. 1, 1909
71 yrs. 1 mo. 27 ds.


ALEXANDER THOMPSON
DIED
Jan. 23, 1844,
AEt 71 ys. 1 mo. 22 ds.
Gone but not forgotten.


MARY
WIFE OF
Alexander Thompson
DIED
Apr. 5, 1856,
AEt 77 ys, 8 ms, 26 ds.
Her memory is blessed.


ELIZA ANN
Dau. of
A. & M. Thompson,
Died Nov. 7, 1828,
AE 10 yrs. 4 mos. 10 ds.
Blessed sleep.


SAMUEL H.
Son of
A. & M. Thompson,
Died Nov. 30, 1815,
Sweetly resting.




HUSBAND
OLIVER BILLINGS
DIED
Apr. 30, 1894
AEt 69 ys, 5 ms. 12 ds.
AT REST

WIFE
SARAH T. BILLINGS
DIED
May 30, 1901
AEt. 84 ys. 9 ms. 19 ds.